Buy bulk ratchets and rods at discount!
Brian Kline / [email protected]
Tell them Billboards Etc Sent You!
You need ratchets every 4'. There are available in a number of lengths in both standard and heavy-duty configurations, making them ideal for virtually all flex face sign applications. Purchase ratchets that have a large tightening handle. The small metals ones are more difficult to use.
Please note: ratchets are sold by the case.
Watch our video to see a billboard installation take place. Some billboard installers use bucket trucks and some use ladders. There are various ways an installer might choose to install a billboard. However the best way is "safety first"! Always use a harness! This could save your life. Choose a billboard installer that carries his or her own liability insurance and make sure they add you as "named as insured" on the policy. If your installer is not an employee of your company please make sure your contract laborer signs a contract that includes safety practices and that they will always carry liability. We would recommend talking with your attorney about best practices when hiring an installer. This video is just an example of what a typical installation looks like. First step is ordering your billboard print!
TIP: Use industrial clamps to hold vinyl in place along the top to get your billboard positioned.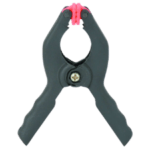 After your
vinyl billboard printing
is complete it's now time to hire someone to install your fabulous new design. 
The images and video demonstrations below illustrate how to use the tools that are essential for vinyl billboard installation.
Outdoor billboard advertising
installed properly can get your business, campaign, or event the great results you are searching for. With the right tools, a great assembly team, the right location, and the best-looking vinyl billboard design you are sure to see success!
Contact
our team with any questions regarding your next vinyl billboard installation.
The Lind SignSpring Group has pioneered a new way to installing billboards. Lind has created a billboard installation technique that will cut your install times in half and virtually eliminated hardware costs.  Learn More